The Province of Manitoba released a finalized K-12 English as an Additional Language curriculum framework
Manitoba Kindergarten to Grade 12 Curriculum Framework for English as an Additional Language (EAL) and Literacy, Academics and Language (LAL) Programming (2021)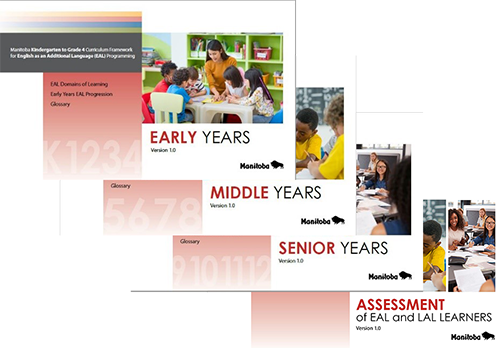 These four documents describe EAL Domains and Progressions for Kindergarten to Grade 12 students who are learning EAL, and LAL phases for Middle and Senior Years students who are developing foundational literacy, academics, and EAL.
---
Senior Years Literacy, Academics, and Language (LAL) Numeracy Courses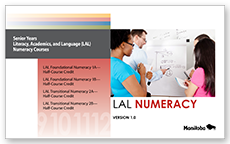 This document contains four half-courses that provide background knowledge and processes in Mathematics and the development of language to enable the students to transition more successfully into the grade-level Grade 9 Mathematics course.
---
English Language Arts: English as an Additional Language for Academic Success
This Grade 12 40S English Language Arts course is designed for advanced-level English as an additional language (EAL) students who wish to further develop the academic English language skills required for success in Senior Years and post-secondary education. The course is a Grade 12 English Language Arts (not EAL) elective. Advanced EAL students (approaching or at Stage 5) will benefit from integrated ELA/EAL courses which reinforce and build proficiency in a range of language knowledge and skills required across the Senior Years curriculum and areas of post-secondary study. Through its five thematic modules that draw on current topics and scaffolded learning experiences, the course develops academic language skills and learning strategies needed for success across a number of subject areas, with emphasis on the sciences, mathematics, and social sciences.
Note: The English Language Arts: English as an Additional Language for Academic Success – A Course for Senior 4 EAL Learners (40S) can not be used as the English Language Arts 40S course required for graduation purposes. It is an optional credit course.
---
Source: https://www.edu.gov.mb.ca/k12/cur/eal/curriculum.html